Earn where you


Travel

Experience

Enjoy

Grow

Expand

Create

Work
It's time to get your piece of hospitality real estate
Get started now
Find out more
We believe in freedom of choice!
Using
blockchain

technology, we split

hospitality real estate

into small fractions, making it

accessible for everyone!
Hospitality real estate at your fingertips
We believe that everyone should have the opportunity to reach their full potential and own a piece of paradise.
Get started now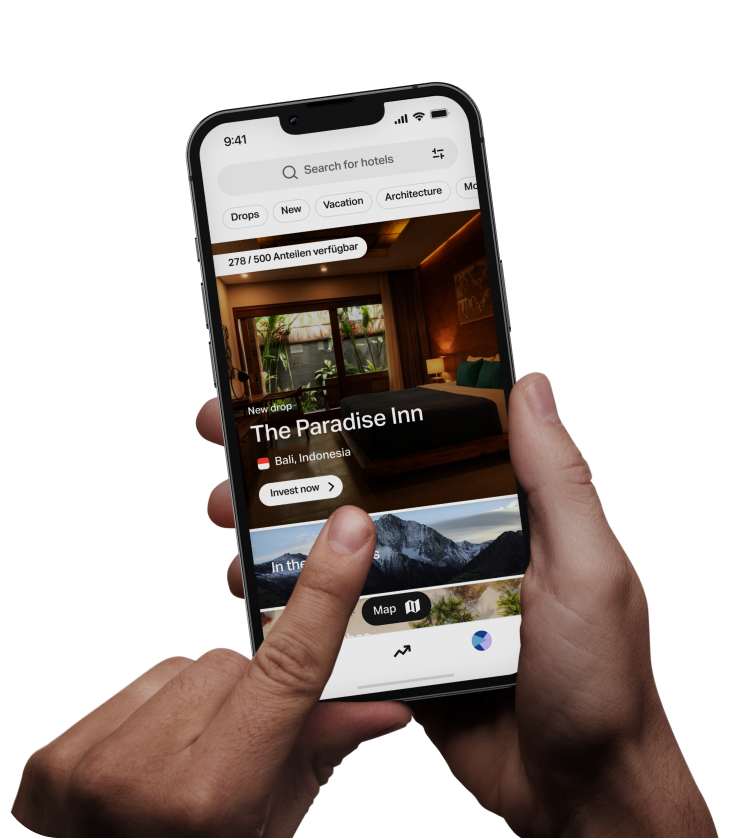 The Business Model
The easiest way to buy into hospitality real estate

Community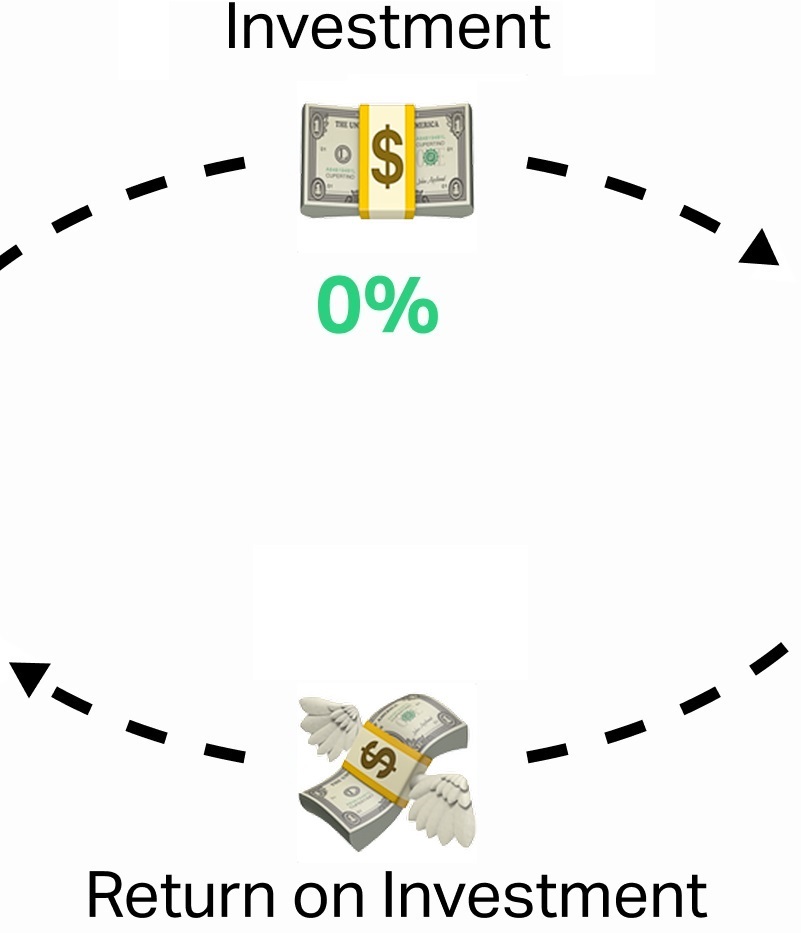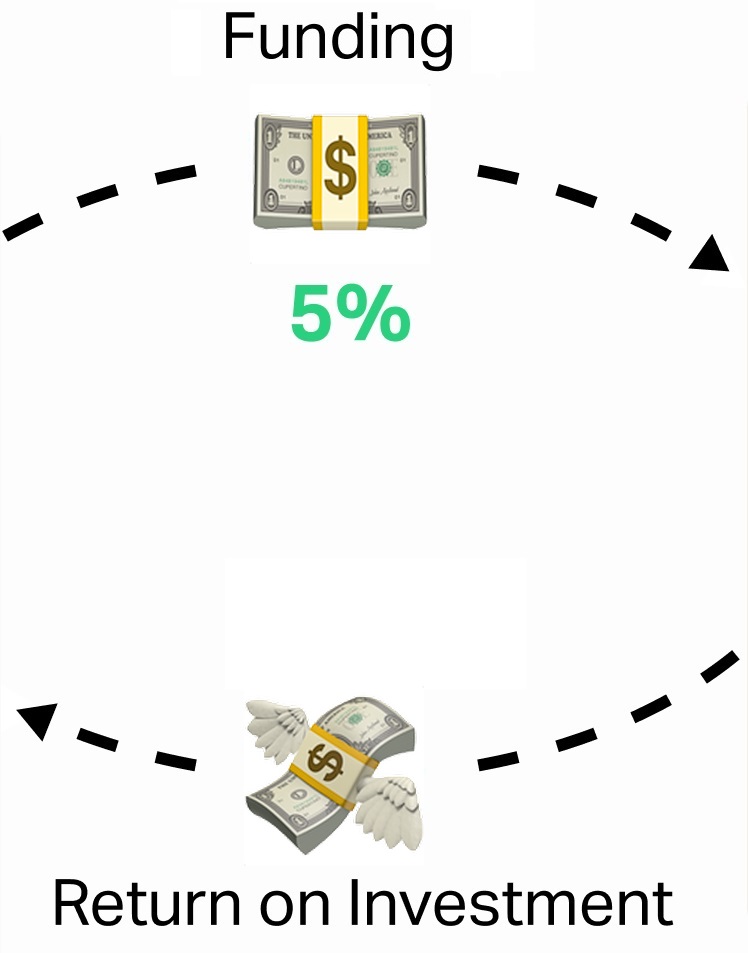 Hotels
How it works
Start your hospitality real estate journey in 3 easy steps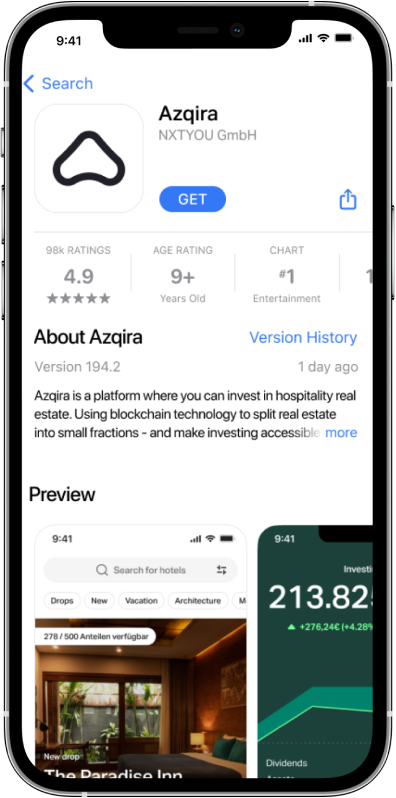 01
Download & Register
Find us on your App store, complete the registration process and KYC. Get started.
Start now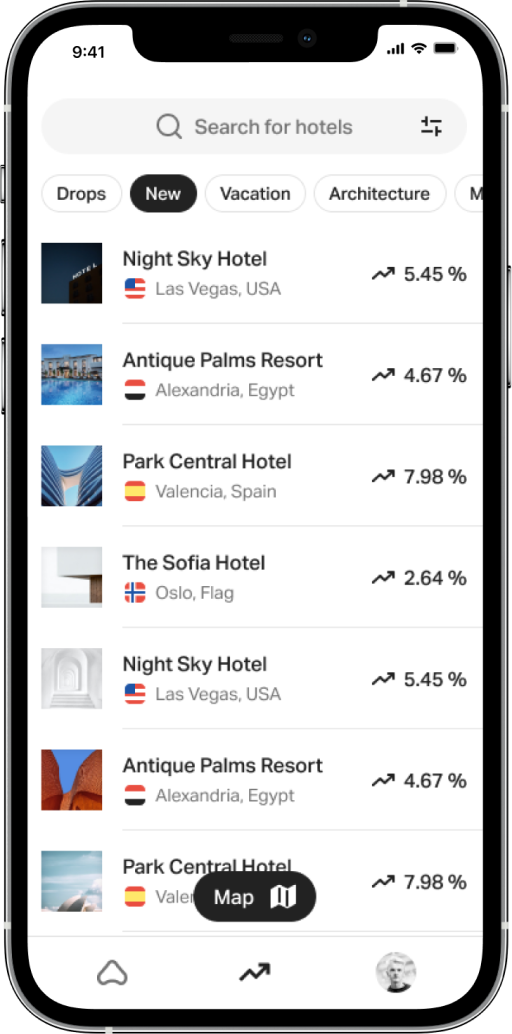 02
Choose your package
Select the hospitality project that sparks your interest. Buy in
Start now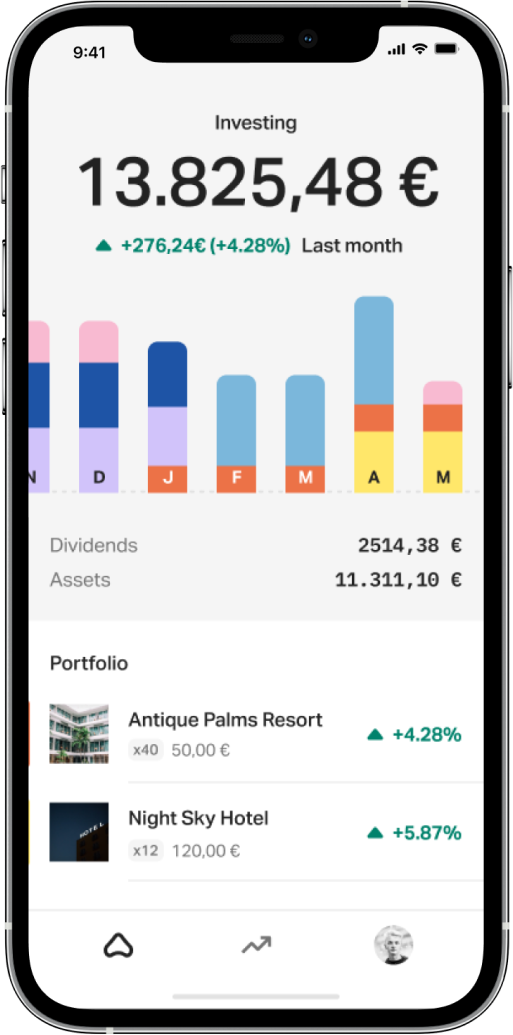 03
Watch it grow
Utilise live data to track progress, earn returns and watch your money grow.
Start now
The future of hospitality real estate
liquid, fast and secure transactions through blockchain technology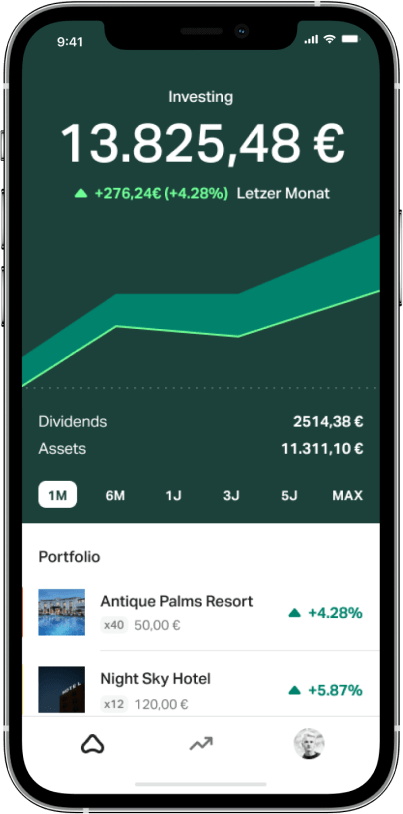 The future of real estate
liquid, fast and secure transactions through blockchain technology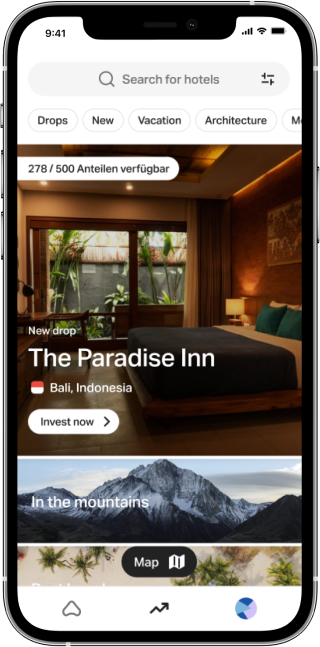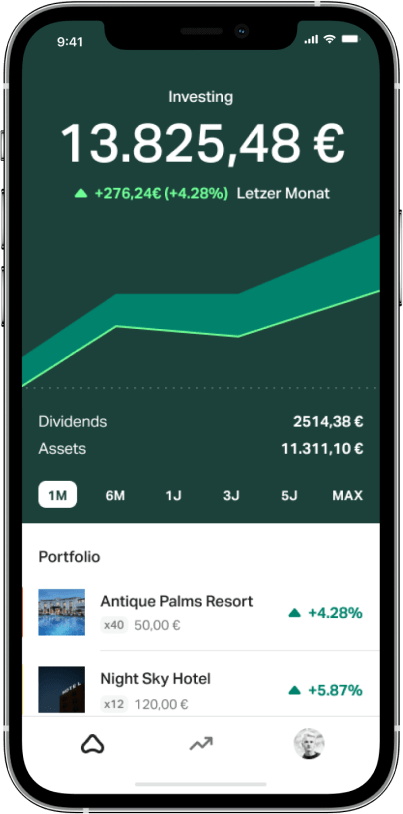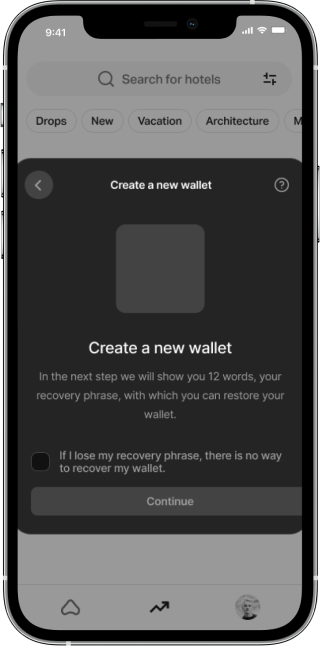 Roadmap
The roadmap shows how we started, where we are right now and what we intend to do in the future.
What's happened?
Created a groundbreaking business model that grows and benefits our community.
Opened up new avenues for the funding of luxury real estate projects
Identified alternative opportunities in the real estate industry
Where are we
now?
Building a state-of-the-art platform.
Signing up luxury hotel groups from around the world.
Partnering with industry experts and making data-driven decisions.
Register now
What's next?
First hotel projects launched and fully funded on the platform.
App release and international growth of backers.
Generate growth for hotel partners and returns for our community.
Our Vision
Integration of community benefits in App
Open trading exchange for the community of investors
Grow hotel portfolio to encourage diversifying investments
The freedom of choice
We believe that everyone should have the opportunity to reach their full potential and own your piece of paradise.
Get started now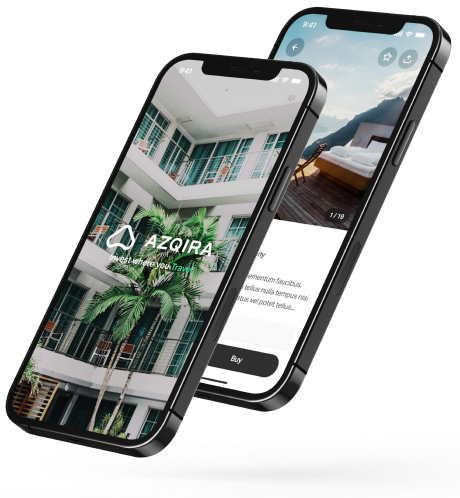 Track your purchases
Get hourly updates how your hospitality real estate performs and how much money you make
Secure & Easy.
Deposit and withdraw funds with your credit card or bank transfer.
Fractional purchases secured by blockchain technology.
We digitally break down the value of large properties & divide them into digital assets that make global backing simple and accessible.
Backing in every hotel project will be made available through limited NFT packages.
Backers looking for a bit more diversity in their portfolio
Higher stakes mean highers rewards and access to preferred deals
Benefits
Buy and sell hospitality real estate in a matter of minutes with a secure system and no entrance barriers.

Low Entrance
Start with 100€ No paperwork or loans from the bank.

Fractional Ownership
Share risk & reward. Rather a small part from a huge pie than a large part from a small pie

Liquid, fast, secure
Blockchain technology brings flexibility to an illiquid asset class

Portfolio diversity
Build a global portfolio that minimises the risk and multiplies income streams
Today a dream, tomorrow a reality
Changing the way you see hospitality real estate, so you can reach your full potential.
Get started now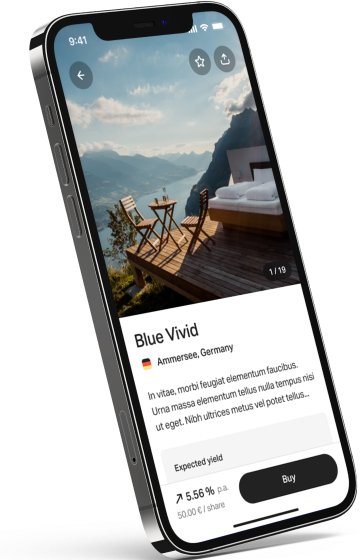 Frequent Asked Questions
Anwers to our most frequently asked questions are just one click away.
What is Azqira?
Azqira is a fin-tech startup that is changing the way people look at real estate. By utilising fractional ownership through blockchain technology, Azqira allows people from all over the world to buy into real estate projects starting with as little as €100. With a core focus on real estate in the hospitality industry, Azqira is changing the face of two industries at once and opening them up to a much wider community.
How does the platform work?
Azqira acts as an intermediary between the hospitality industry and eager real estate enthusiasts looking to break into the market. By utilising the power of blockchain technology we are able to fractionalise the ownership of hospitality real estate developments into digital assets and make them accessible for our community to buy at all levels. Buying options will be made available through the purchase of NFT packages that are divided into different tiers starting at as little as €100. These packages will contain both digital assets that represent a portion of the real estate as well as other exclusive benefits such as the right to earn dividends. As the real estate value increases so will the value of the digital assets that each buyer holds and after a stipulated locking period digital assets and NFTs will be allowed to be traded within our exchange. Here investors have the opportunity to make money based on the fluctuating value of the digital asset as well as the potential to earn shared returns through holding NFTs.
How can I own a fraction of a property?
Through the use of blockchain technology and smart contracts embedded into the code of our platform, Azqira is able to virtually divide the ownership of real estate into digital assets. These digital assets are tied to the ownership of the property but do not necessarily mean that you would physically own a fraction of a building, like 7 bricks in the bathroom wall. Ownership is seen as a virtual percentage of the entire project.
What is an AZQ?
AZQ is our very own digital asset that we will be using on the Azqira platform. AZQ will be purchased at a determined value that will fluctuate with the progress of the real estate projects that Azqira is tied to.
How much do I need to start?
Opportunities will differ slightly from project to project depending on the size and value. The goal for Azqira is to make real estate accessible to anyone's own budget. That's why we aim to have a minimum entry-level buy in of €100 per project.
How do I make money from this?
Your buy in is used to help build or improve elements of the hotel and in return when the hotel performs better and its value goes up, so does the value of your digital asset. By holding digital assets within a NFT package backers will have the opportunity to earn returns on their purchase, much like how you would earn dividends form owning stocks or shares in a business.
Partners
Brands interested in selling their properties to Azqira and our community.